Culture: Altzoka - The Alza Fair
Publié le samedi, 10 mai 2014 par Luke Armstrong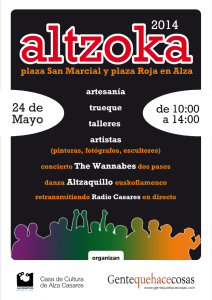 On Saturday 24th May Gentequehacecosas are returning to Alza with the second edition of Altzoka, the Alza fair.
What's it all about?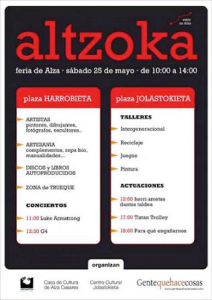 Altzoka is one of the principal projects of Gentequehacecosas, a non-profit association which is dedicated to supporting local culture and talent. Altzoka is about providing local people with a platform which they can use to present their work or produce in the often overlooked neighbourhood of Alza. What's more, it's a fun day out for all of the family and has something for everyone - last year was the fair's first year and it was a great success.
What happens at the fair?
There are markets, concerts (this year, 'The Wannabes' are playing) and activities for kids and elderly people. In the markets you'll find: homemade jewellery; artwork; books; self-produced CDs; bags; photographs; fair-trade food; alternative medicine; locally designed t-shirts; ecological clothes; exchange stalls... and much more. Everything is provided by local 'cultural agents' and, in the vast majority of cases, the person manning the stall is the person who made what is on sale.
How can I get involved or set up my own stall?
Get in touch with Josetxo (Josetxo@gentequehacecosas).
How can I get there?
The number 24 bus from the city centre. You'll find the fair in la Plaza del Casco, in Alza
Where can I find out more about it?
The association's website is www.gentequehacecosas.com and there's a video of last year's fair on youtube at https://www.youtube.com/watch?v=r7C6azTSu_s&feature=youtu.be.